My childhood dream was to walk in my Grandfather's foot steps breeding
the German Shepherd Dog for all the right reasons:
-Man's Best Friend and their Unique Characteristics of Loyalty and Stability-
We must not forget the German Shepherd Dog was the Pioneer of Service Dogs
and still remains of Service today .....
I have well over 40 years experience with German Shepherd Dogs as my
Grandfather imprinted his knowledge and experience of the breed on to me.
I thoroughly research the dam and sire's background before they enter my
breeding program so that I will produce a mentally and physically sound puppy.
I am grateful for my Grandfather's guidance in my breeding program today ...
I am member of the following German Shepherd Dog Club organizations:
GSDCA, GSDCGNH, NNJGSDC and ODTCW.
I went on to the Board of Directors at GSDCEC and NNJGSDC ...
Signer of the Breeders Code of Ethics
Mystra Shepherd Puppies begin training and socialization at an early age ...
Ch. Joey & Cassey are pictured below.
They Both are in their Twelfth Year and are My Very Best Friends ...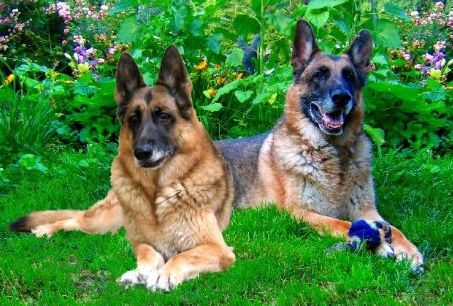 Our Senior Dogs Remain With Us At Mystra Shepherds Forever ...
This is "The Duke" pictured below on his 12th Birthday ...
He is now in his Thirteenth Year ...
It was Love at First Site Between Him and I when we met ...