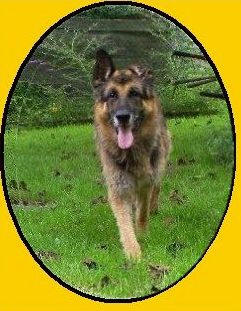 "Dukie"
Duke Von Hillcrest TC, OFA, OFEL
Thirteenth Club Member
The love Duke and I had was a very special one as many of
you know ... To send him off to the Rainbow Bridge was one
of the hardest things I have ever had to do ... I gave him a
kiss on the forehead and he gave me a kiss very softly on
the chin while looking into my eyes as he always did ... I
know he knew how much I loved him and I wanted him to
leave with his dignity in tack as he always lived his life with
me ... I did not want him to get to the point he could no
longer walk on his own so I decided to let him go now ...
Being a true German Shepherd Dog he walked into the vets office holding his head high being proud to be by my side ready to leave for a place
called The Rainbow Bridge ... Someday we will be together again at the Bridge ...
Duke sired over 30 litters of puppies in his life time ... Mystra Shepherds is
proud to say many have grown up to be an important part of our breeding program ...